If you are interested in selling parts on our TPMP site, this can be done via a number of options.
Option 1
If you require a quick sale and TPMP are interested in your items, TPMP will negotiate a price with yourself and purchase those items direct from you.
Option 2
You can place your items on our TPMP website for whatever price/prices you would like and TPMP will market them on your behalf. Once the item/items are sold you (the seller) will need to securely package and distribute those items to the purchaser – All shipping charges are solely the responsibility of the seller. For this service TPMP will charge commission at 17% of the total value of the goods.
Option 3
TPMP can offer a limited chargeable collection service. this is where we will collect the item/items from your location (UK only). Once the items have been checked, TPMP will issue a 'receipt of goods' confirming that we will be holding your item/items at our location until sold or otherwise instructed by the seller. If the item/items are sold, we will package and distribute your item/items on your behalf. For this service, we will charge 25% of the value of the item/items, plus shipping & handling charges.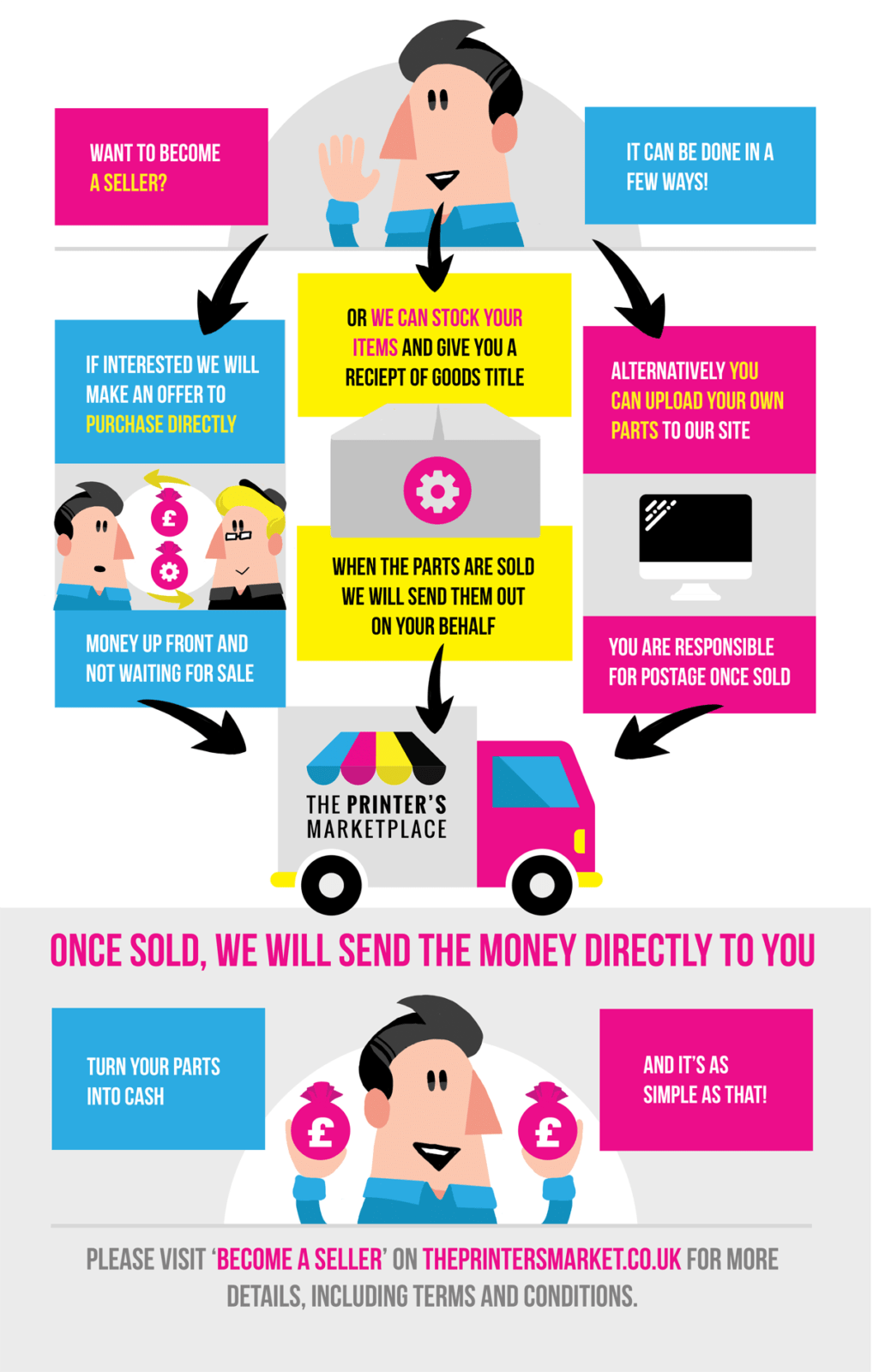 It is the responsibility of the seller to provide a full and accurate description of the item/items to be sold. Please visit our TPMP web site www.theprintersmarketplace.com for full 'Term & Conditions' relating to becoming a third-party seller.
All prices are exclusive of VAT. Custom costs or other export / import duties are to be arranged between the seller and purchaser and has no bering on The Printers Marketplace. This will need to be considered as these cost may need to be added (if applicable).
As the seller you are liable for VAT – If you are not VAT registered you may need to consider this in your final asking price.
Once the item/items have been sold, you will receive your payment via a bank transfer less any TPMP related charges. There will be no weekly storage or advertising charges and you are welcome to adjust the value of your goods at any time.
If you require any further information about becoming a third-party seller, or any other aspects of The Printers Marketplace please email info@theprintersmarketplace.com
If this all sounds interesting to you, please submit your product/products to TPMP to review using the form below:
Vendor Registration
Submit the form below to become a vendor on this store.